SMQ was involved in a European Union project in Syria until August 11, 2010 named "Strengthening Quality Management
Capabilities and Infrastructures in Syria". The main task was to give training courses around Syria on Legal Metrology.
The training was focused on the requirements to fulfill International Infrastructure Requirements in Metrology.
The trainers were Håkan Källgren, Technical Manager of SMQ and
Gilles Revoil, Key expert in the project QUALITY Programme- Syria.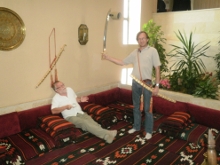 Visiting historical sites together
with the Operations Manager
Yara Younes.
Håkan Källgren in discussions
with Gilles Revoil.