SMQ is sponsoring youth activities such as football competitions.
The company has been sponsoring the youth football team Älta IF.
SMQ is also sponsoring the Swedish football club Elfsborg in the
"1904 Club".
SMQ is also supporting children in developing countries through UNICEF
and three children in Uganda, so they can go to school. See pictures below.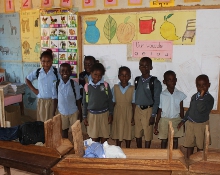 The company´s commitment is to continuously improve our environmental performance and integrate recognized environmental management best practice into our business operations by:
- Running an environmental approved car by ethanol
- Purchase exhaust emission equivalents (www.carbonneutral.com)
- Manage waste generated from the business operations according to principles of re-use and recycling